Rumors spread like wildfire these days, all thanks to digital media! While at times the rumors end up being true but usually there is no truth to it.
Recently, Nines aka Courtney Freckleton, the English rapper from North West London, was called dead on social media.
Nines ain't dead man. It's these PC/Neeksfc accounts tryna pull of another sneakbo ting pic.twitter.com/Rrpai9CaAR

— 🚀 (@IC3_18) April 22, 2019
An account by the name Csb_Management came forth later confirming the news and cited the reason for nines death to be lung cancer.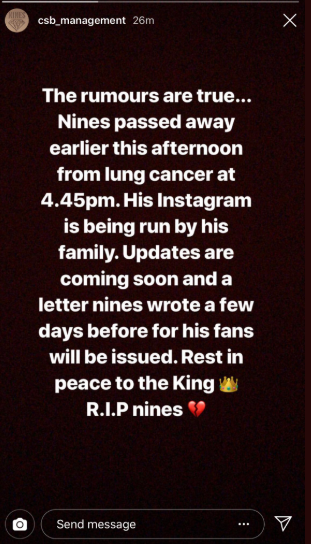 Many people believed the post, whereas, some others started digging to find out the reality.
After inspection, it has come to the knowledge that the account; which confirmed the news happens to be a newly created account with few followers.
Further, shortly after the rumors went viral, Nines himself was seen posting on his IG story. Hence, the rumors are supposedly false and the UK rapper, Nines isn't dead.
Update: June 1st 2019
Rumors again have surfaced of Nines being stabbed and injured in a street altercation with an alleged rival..
The details are to be confirmed yet! Also it isn't sure if the man in the video is Nines. So, if you are a fan; don't panic and send your prayers, just in case, if he needs it!
We will keep you updated as soon as the details come forth!