"We can confirm that Sol Pais is deceased. We are grateful to everyone who submitted tips and to all our law enforcement partners for their efforts in keeping our community safe," the FBI said on Twitter.
The Jefferson County Sheriff's Office confirmed that Sol Pais died of a self-inflicted gunshot wound. Pais was found dead in Clear Creek County at the base of Mount Evans on April 17, CBS Denver reports. Law enforcement sources told the news station that it is believed that Pais took an Uber to Echo Lake, near Mount Evans. She was found dead by suicide "several hundred feet past Echo Lake Lodge up Mount Evans Road near where the road is currently closed for the season," CBS reports.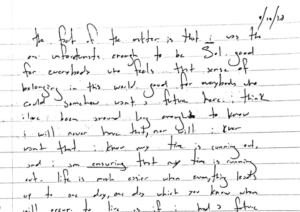 Online writings in the name Sol Pais show a disturbed and depressed mentality. We have reviewed the disturbing website and a Listography profile that link to that website. The website uses the username "Dissolved Girl."
Although authorities have not confirmed nor denied the authenticity of the pages, they contain drawings of guns, severely depressed and rambling musings about death and life, and demonstrate a disturbed mindset. Here's an example of a journal page with troubling comments.
"Being alive is fuc*ing overrated. How do I pull it out of me? I'm fuc*ing empty."
The bottom of the website contains the tagline "1999 – the nobodies." The Nobodies is a song by Marilyn Manson that was inspired by the 1999 Columbine school shooting, as well as John Lennon's killer's comment that he "felt like a nobody,"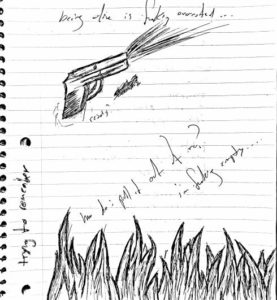 "Be the best killer you can be," reads the tagline to the listography page that links to that site. Under the header "to do in my lifetime," the page listed, "self destruct, burn out, walk away, reject apologies, fade." There is also a last.fm page with the same bio picture as the website in the name Sol Pais.
One of the scribbled diary pages on the website reads in part, "The fact of the matter is I was the one unfortunate enough to be Sol…I know my time is running out. And I am ensuring that my time is running out. Life is much easier when everything leads up to one day, one day which you know will occur."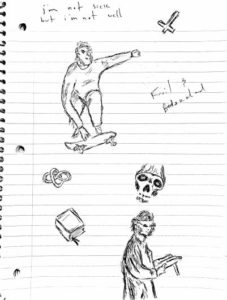 Sol Pais had no obvious Facebook or Twitter pages. There is a privatized Instagram page that links to the above website.