Something is definitely going down between Gervonta and Ariana and things aren't pretty for sure.
The 24-year-old American professional boxer, Gervonta Davis gave some hints about his crumbling relationship with girlfriend Ariana Fletcher yesterday night.
There was a noticeable change in Gervontas' Instagram profile. To everybody's surprise; Gervonta deleted all the pictures of Ariana from his Instagram.
It all went down after Ariana, 23, celebrated her son's birthday with her baby daddy, ex-boyfriend, G Herbo.
Ariana and G Herbo together have a son named Yosohn; who turned a year old yesterday.
But seems like, Gervonta didn't like what he saw on Ari's Instagram.
Did Gervonta and Ariana Break Up?
Following the deletion of Ari's picture, from his Instagram; Gervonta was called out by his baby mama on Twitter.
Ariana called Gervonta a bit*h, however, the Tweet is now taken down.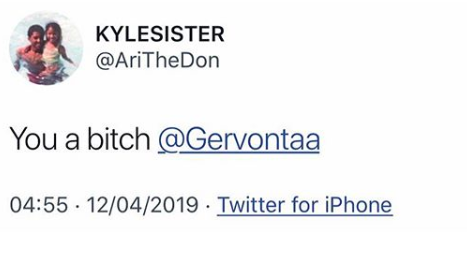 Also, after the tweet, even Ariana took time to clear up her Instagram feed. Which could possibly mean; they are over with the relationship! However, neither of them have confirmed their break-up officially.
People on the internet reacted to the situation quickly and lashed out at Gervanto for acting immature,
Gervonta really acting like a female… He really deleted him & Ari pics off IG🙄 that's sooo lame … Gherbo is the father of her child he gone ALWAYS be in the pic thats some a mf gone have to live w.💯

— KayK. 💋 (@_KayBaddie) April 12, 2019
Meanwhile, Gervonta is also a father to his nearly 10 months old daughter, Gervanni Davis, whom he shares with his ex-girlfriend Dretta Starr.
LOVE IS LOVE 💕 pic.twitter.com/ik18rynDcs

— Gervonta Davis (@Gervontaa) March 29, 2019
Considering that Gervanto co-parenting himself; people believe he should have understood the situation better,
Gervonta is a father his self. I'm pretty sure he would act civilized & try to have some fun with his child's mother as well. Niggas insecure asf lol.

— mya che' (@myaANDmiguel__) April 12, 2019
What are your thoughts on this whole situation? Let us know in the comment section below.