Medi Abalimba is a failed footballer who was sent to prison for impersonating ex Chelsea winger Gael Kakuta in 2014.
But currently, Medi has made it to the news for being Love Island's Georgia Steel's boyfriend.
Quick Facts and Information on Georgia Steel's New Boyfriend Medi Abalimba
| | |
| --- | --- |
| Date of Birth | October 14th, 1992 |
| Age | 26 |
| Country | France |
| Address | Congo |
| Birth Sign | Libra |
| Profession | Former Footballer at Derby County |
| Marital Status | Single |
| Girlfriend | Georgia Steel |
| Height | 1.74 meters |
Medi Abalimba's Relationship with Georgia Steel
Georgia Steel's new boyfriend has gotten identified as Medi Abalimba a convicted fraudster.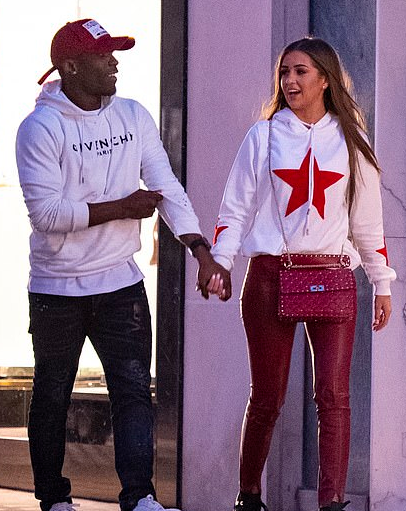 Based on Medi's interview with The Sun, it is known that the two got introduced by a friend at a night out.
Elaborating, how they met, Medi expressed,
"I didn't watch Love Island when she was in it because I was in prison. I didn't even know who she was. We met on a night out, a friend introduced us, and got talking and we got on."
The failed footballer further clarified that Georgia knew about his time in Jail,
"I told her everything. She wasn't judgemental. I don't want her career affected."
Also, he referred to their relationship as "beauty and the beast story."
"We like each other, we are getting on she's a good girl. It's a beauty and the beast story. I'm considered a monster, but she doesn't judge me."
Prior to identifying Medi as Georgia's boyfriend, there were rumors suggesting that her boyfriend is a rich American.
Medi and Georgia Steel's relationship seems to be of a serious nature; as the Love Island alum has already introduced Medi to her parents.
Medi Abalimba Past Career
Abalimba began his career as a midfielder for Crystal Palace and Fulham's youth team.
Later at the age of 16, Medi moved to Southend United where he used to get paid £1,000-a-week.
Thereafter, Medi had trials at both Manchester United City, however, he ended up playing for Liverpool reserves.
Eventually, after putting in years of hard work,  Medi got signed by Derby County for £1.2million.
At Derby County, he used to get paid around £4,000 a week.
But unfortunately, he got dropped out of the team later; which led him to get involved in fraudulent activities.
Medi then started masquerading as Gael kakuta, ex Chelsea footballer, to fund his lavish lifestyle.
Which in return led him to get arrested and sentenced for 4 years in prison.