Leslie Mann amazed everyone with her stunning and ageless looks when she arrived for the show taping of The Late Show on Wednesday.
Leslie donned the hot pink dress gracefully even in the chilled weather of Manhattan. The taping of the Late Night Show was part of the publicity tour for the movie, Welcome to Marwen. Leslie Mann is starring opposite Steve Carell, best known for The Office and Crazy, Stupid Love.
Leslie Mann wore a deep pink bodycon dress for her appearance on The Late Show. The pink dress made her trim figure look more noticeable and it is her flamboyant charisma that makes any attire look good on her.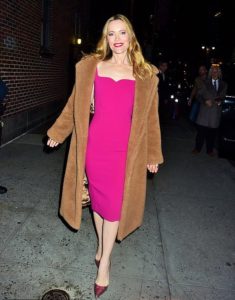 The Knocked Up star wore pale pink heels having pointed toes along with a plum color on her nails which matched and complemented her wholesome looks even more.  To shun the chilly Manhattan weather, Leslie flaunted her feathery taupe colored overcoat.
The new film, Welcome to Marwen, also starring Steve Carell is a story of a real-life man beaten into coma causing a memory loss. The story revolves around Mark Hogancamp, played by Steve Carell.  Leslie Mann stars in the movie as the character of neighbor and an essential part in the recovery of Mark Hogancamp.
The movie description from Google interprets the movie, Welcome to Marwen as:
When a devastating attack shatters Mark Hogancamp (Steve Carell) and wipes away all memories, no one expected recovery. Putting together pieces from his old and new life, Mark meticulously creates a wondrous town where he can heal and be heroic. As he builds an astonishing art installation—a testament to the most powerful women he knows—through his fantasy world, he draws strength to triumph in the real one. In a bold, wondrous and timely film, Welcome to Marwen shows that when your only weapon is your imagination…you'll find courage in the most unexpected place.
Welcome to Marwen releases this year on the 21st of December.